Find Perfect E Rickhsaw in Varanasi - Varanasi
Wednesday, 6 December 2017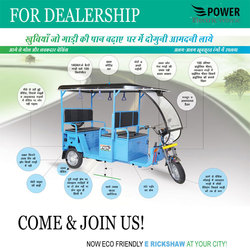 Item details
City:
Varanasi, Uttar Pradesh
Contacts

Power Electric Vehicle

7467861234
Item description
The electric rickshaw sector is under constant focus across all the cities and towns of India. With the pollution levels rising at alarming levels in most cities, a significant culprit to the problem is the pollution emitted by vehicles which run on conventional fuel. The e rickshaws run with zero pollution and thus are the most obvious solution to the problem. That's why the government is providing all support and incentives to boost the segment. Thus you could indeed build a successful business with battery operated rickshaws. You therefore need to take a dealership of the leader in the segment. Power Electric Vehicle is one of the leading manufacturers of electric rickshaws in India and is now in Varanasi as well. So grab this great opportunity to become a distributor. more info: httpwww.powerev.in/e-rickshaw-in-varanasi
Why take up a dealership of Power Electric Vehicle in Varanasi ?